This cottage cheese muffins recipe is a true winner. It is delicious when it just come out of the oven but the taste will get better and better the older it gets.
So it is the perfect recipe for picnics and lunches. They will be so happy that you packed them this lunch, your children will ask for cottage cheese muffins quite often.
Ingredients:
350g Cottage cheese
2 Eggs, lightly whisked
125g Butter, melted
3 Tbsp Sour cream
50g Cheese, grated
a Handful of chopped fresh parsley
100g Plain/all-purpose flour
2 tsp Baking powder
A pinch of salt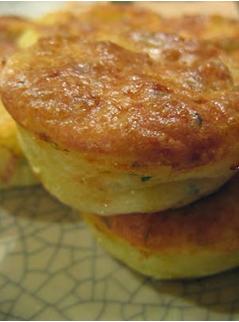 Cottage Cheese Muffins Method:
Mix cottage cheese, grated cheese, eggs, melted butter, sour cream and chopped parsley.
Mix flour, baking powder and salt in a small bowl, stir into the cheese and egg mixture.
Spoon the mixture into prepared muffin tins and bake in the middle of 200°C oven for about 25 minutes, until the muffins have puffed up and golden.
Cool a little and serve.
Next Delicious Recipe We Recommend: Ham, Egg and Cheese Melt