Vegetable soup have never been this tasty. This vegetable soup with bacon and feta cheese is the best type of vegetable soup you can get.
Now you can make it at home and enjoy this recipe for the cold winter coming.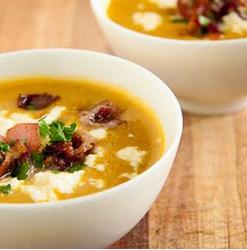 Ingredients:
1 Onion, roughly chopped
2 Leeks, roughly chopped
2 Celery spears, roughly chopped
2 Garlic cloves, roughly chopped
5 Large carrots, peeled and chopped
3 Potatoes, peeled and chopped
1 Butternut, peeled, seeds removed and chopped
1 Bay leaf
1/2 tsp Nutmeg
1/2 tsp Cloves
1 tsp Paprika
1.5 l Vegetable stock
Salt & pepper to taste
Bacon, fried till crispy, to serve
Crumbled feta, to serve
Vegetable Soup with Bacon and Feta Cheese Method:
In a large pot, heat some olive oil and fry the onions, leeks and celery until soft and transparent.
Add the garlic and fry for another minute.
Add all the vegetables and flavourings and allow to sauté for 5-10 minutes.
Add the stock and reduce the heat.
Cover the pot and allow to simmer gently for 30-45 minutes.
When the vegetables are thoroughly cooked, remove the pot from the heat and blend the soup.
I use my handheld blender for this but you can also use a blender or food processor.
Season the soup to taste and serve with the bacon and feta sprinkled over.
Next Delicious Recipe We Recommend: Cottage Cheese Muffins
Save