Do you love eggs and would love this as a snack? Then you should definitely try our egg bites as they are delicious with a nice touch of breadcrumb layer on top of the eggs.
This would work great for a quick snack or even a small lunch. Why not try these today and see how much your children will love you when they get home from school and they get to feast on this delicious dish. I can only imagine their faces right now!
This recipe makes 6 portions.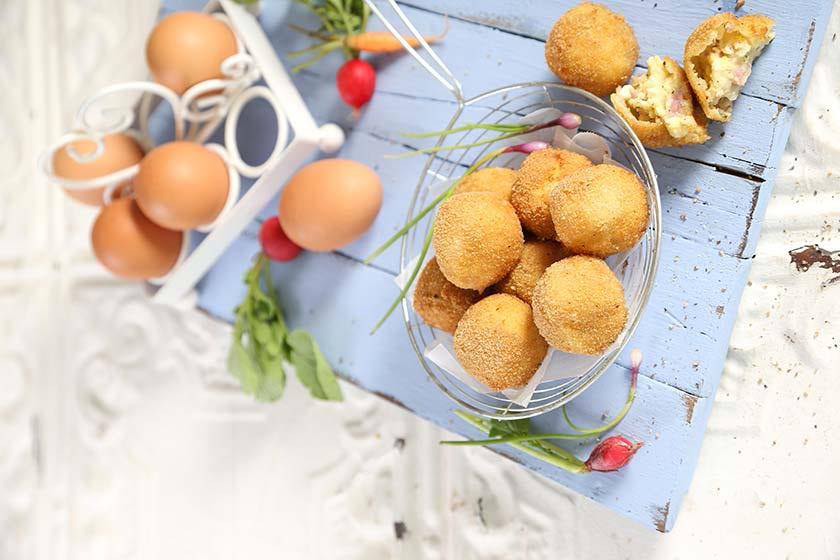 Ingredients for the White Sauce:
45 ml (3 tbsp.) Margarine
60 ml (4 tbsp.) Flour
250 ml (1 c) Full Cream Milk
Ingredients for the Filling of the Egg Bites:
20 ml (4 tsp.) Margarine
1 Onion, finely chopped
250 g (1 Packet) Bacon, chopped
15 ml (1 tbsp.) Fresh Parsley, chopped
8 Hard Boiled Eggs, skin off and finely chopped
Ingredients for Final Rounding:
250 ml (1 c) dry bread crumbs
Method for White Sauce:
Melt the margarine and stir in the flour until smooth.
Add a little milk at a time, so it does not form lumps.
Cook over low heat, stirring continuously until the sauce thickens.
Set aside to cool completely.
Method for Filling:
Melt butter and sauté onion and bacon in it until done. Remove from heat.
Stir parsley and chopped eggs in and mix again.When it is cool enough to handle, for medium-size balls.
Method for Final Rounding:
Roll the balls you just made in flour, then in the egg and finally in the breadcrumbs.
Heat oil in a small, deep saucepan. Fry until golden brown.
Remove and place on paper towels to absorb excess oil.
Serve with a salad or any preferred side dish.
Save
Save
Save
Save
Save
Save
Save
Save